Accomplished landscape and garden designer, Harry is frequently in demand as a speaker and teacher. We are delighted that he has agreed to run this masterclass expanding on his book "Paradijselijke Tuinen" ("Paradise like Gardens")
Planting Design Masterclass with Harry Pierik
Join Harry Pierik for an inspirational day of planting design theory and practice. This masterclass will give you plenty of ideas about how to create harmonious and spectacular planting schemes. There will also be discussion about Harry's experiences in improving the soil, working with microclimates and designing for long term effects in specific situations.
Examples will be drawn from nine residential, public, domestic and urban projects. While Harry, naturally, works with native plants, the principles of planting design explored in the masterclass apply equally to exotic plants. You will see how Harry Pierik creates new striving habitats with native and exotic plants.
When and where:
Zwolle, Netherlands, August 2015. So if you want to enhance your planting design skills or learn how to create stunning planting schemes that are working, join us! We are looking at running masterclasses in Zwolle, the Netherlands, in August 19 and August 26, 2015. Contact us if you are interested in attending this Masterclass.
Programme
09.30 Meet and Greet
09.45 Presentation and Q&A
10.30 Garden visits and practice
12.45 Lunch at the Dominican Abbey
13.30 The Dominican Abbey garden tour and practice
14.30 Garden visits
17.00 End of workshop
What's also included
• Tea and coffee during the day
•Lunch
•Blu-ray disc with Harry Pieriks garden videos
Price :
135 euro p/p
Booking:
To express your interest send us a message including the date that suits you best, and we will contact you back: Olga van Saane Dit e-mailadres wordt beveiligd tegen spambots. JavaScript dient ingeschakeld te zijn om het te bekijken. You will recieve the preliminary confirmation, and the payment instructions, as you'll be expected to pay two weeks before the masterclass date.
Review
Masterclass with Harry Pierik – what a truly unique and important experience it was: to be a part of creative process, to witness the birth of ideas, to see concepts come alive as beautiful gardens of various kind. There was some magic of being let into the creative world of a gifted designer, whose gardens are like no other, and yet relying so solid on Nature.
The art of Harry Pierik, sophisticated, elegant and witty, laconic at the same time, can be compared only with itself! The day of Masterclass allowed us to learn, that it is so immeasurably more than about the gardener and his gardens, theories and practices of garden design, but it is also about illusion and reality, about inspiration and creation, it's about the Master and Marguerite! :)
With deep gratitude - Lena, Olga, Svetlana, St. Petersburg, Russia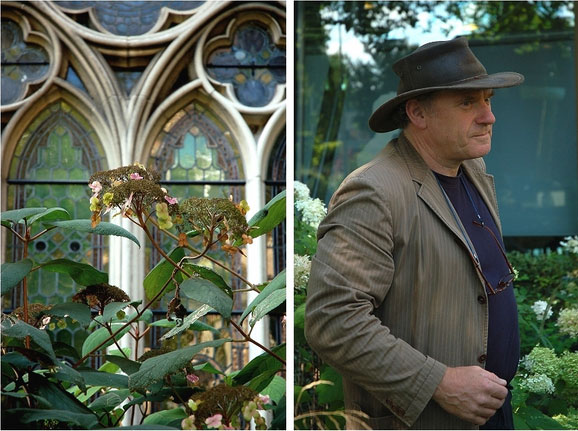 Read the experience of Olga van Saane Photo on her website.